Sino-EU Doctoral Summer School
For Logistics, Information, Management, and Service Science
Introduciton of Organizers
Beijing Jiaotong University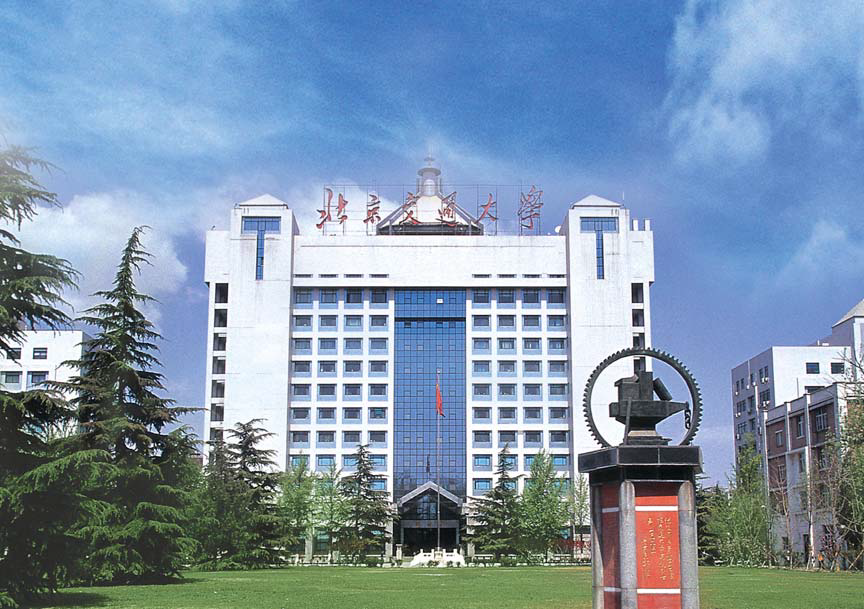 Beijing Jiaotong University (BJTU, formerly known as Northern Jiaotong University) is a national key university under the direct administration of the Ministry of Education and now is jointly supported by the Ministry of Education, the China Railway Corporation (formerly known as the Ministry of Railways) and Beijing Municipal Government. BJTU is one of the first universities selected into the "National 211 Project" and the "985 Strength Discipline Innovation Platform" project, one of the first institutions authorized to confer master's and doctoral degrees. BJTU, as the leading organization, has established the Collaborative Innovation Centre for Rail Transit Safety, which is one of the first 14 collaborative centers approved by the Chinese government to enter the "National 2011 Projects".
BJTU is located in Beijing, the capital city of China with east and west campuses in Haidian District. It covers a total area of approximately 733700 square meters, and its building area is 920 thousand square meters. The university is also planning to establish a new campus in the name of Modern Railway Transportation Innovation Base in Pinggu District. BJTU accommodates 14 academic schools, 2 vocational colleges and 1 independent college. BJTU has 2,952 faculty and staff members including 1,790 full-time teachers. (Among the full-time teaching staff, 1,083 have senior and associate professional titles) Now the University has 13,690 undergraduate students, 7,727 graduate students, 2,593 doctoral students, 8,052 professional degree students and 8,324 adult students. There are 1,387 short-term and long-term international students in total. So far, BJTU has 8 national key disciplines. There are 15 post-doc research stations, 20 level-1 disciplines offering doctoral degree programs, 34 level-1 disciplines offering master's degree programs, 13 professional degree programs such as MBA, EMBA, M.Eng, M.Acc, M.Law, etc. The University has 46 research platforms at ministry/provincial level and above, including 5 national level research platforms and 41 ministerial and provincial level research platforms. In recent 5 years, the university supervised nearly 11,000 research projects such as National 973 Plan, National 863 Plan, National Science Fund, National Social Science Fund and other projects established by Ministry of Education, Ministry of Railways and so on. The research fund reached 3.8 billion RMB. BTJU has published 2,135 papers in SCIE citations and 3,873 papers in EI citations. There were 2,047 patent applications and 1,262 approvals. "Think of the source while drinking the water, love the country and honor the alma mater." Today, with 118 years of glorious history, Beijing Jiaotong University carries on her mission, following the motto of "Learn and Practice" and the spirit of modesty, caution and innovation, remembering the demand and expectations of the former national leaders, and striding towards the goal of building a world-renowned university with high-level distinction.
International Center for Informatics Research, Beijing Jiaotong University

The International Center for Informatics Research (hereinafter referred to as "ICIR") of Beijing Jiaotong University is based on the Department of Information Management, School of Economics and Management, Beijing Jiaotong University. It is an international research and teaching base which is jointly founded by the following members: BeijingJiaotongUniversity, University of ReadingUK, Massachusetts Institute of Technology, the Pennsylvania State University, Miami University, Swedish Royal Institute of Technology, VrijeUniversiteit Amsterdam, the Netherlands, Nanyang Technological University, Singapore and Victoria University, Australia. Currently, there are about 70 full-time and part-time researchers including professors and scholars of Information Management and Management Science, researchers, senior managers and government officials who are active in various industries. Most of them have their unique background in the areas such as mobile commerce, intelligent pervasive spaces, organizational semiotics, decision support system, service science and knowledge management etc. By making full use of the strong research and teaching strength from the above nine members, the ICIR will not only carry out extensive and in-depth international exchanges and cooperation in the research and teaching area of Information System, but also provide a integrated platform for high-level researchers to cooperate and learn from each other. Exchange programs including teachers, PHD and post graduate students among the above nine members will be carried out in order to do high level researchers. Jointly PHD and post graduate level programs, international conference, forum and seminar will also be held on this integrated platform.
UniversitatPolitècnica de CatalunyaBarcelonaTech, Spain

The UniversitatPolitècnica de Catalunya · BarcelonaTech (UPC) is a public institution dedicated to higher education and research, specialised in the fields of engineering, architecture and science. In a highly creative context, the UPC's research, teaching and management projects are based on the principles of freedom, justice, democracy, solidarity, cooperation, sustainability, efficiency, transparency and social responsibility. They also reflect the University's commitment to the environment and to change. With a focus on intellectual rigour, critical thinking, a cross-disciplinary approach to knowledge, educational innovation and entrepreneurship, the UPC produces competent professionals with the skills they need to tackle present and future challenges. The activity that goes on at UPC campuses and schools has made the University a benchmark institution. The University harnesses the potential of basic and applied research, and transfers technology and knowledge to society. These actions make the UPC—in partnership with industry—an agent and driver of economic and social change. The UPC puts its scientific and technological infrastructure at the service of research groups and centres, researchers and students, professionals, companies and institutions. As a leading member of international networks of excellence, the UPC has a privileged relationship with global scientific and educational organisations. As a result, the University is at an advantage when it comes to attracting international talent.