Current Location:
Home
» Call For SS/WS
Call For SS/WS
Call for Workshops/Special Sessions
2019 International Conference on Logistics, Informatics and Service Sciences (LISS2019)
26-29 July 2019, Maryland, USA, with satellite sessions in Beijing, China
http://icir.bjtu.edu.cn/liss2019 or https://www.rhsmith.umd.edu/liss2019
Hosted by
IEEE Technical Committee on Logistics Informatics and Industrial Security Systems
National Academy of Economic Security, Beijing Jiaotong University, China
China Center for Industrial Security Research, Beijing Jiaotong University, China
School of Economics and Management, Beijing Jiaotong University, China
Cooperated with
University of Maryland, USA
Informatics Research Centre, University of Reading, UK
Sponsored by
IEEE Systems, Man, and Cybernetics Society
NSFC (National Natural Science Foundation of China)
K. C. Wong Education Foundation (Hong Kong)
Sino-EU Doctoral School for Sustainability Engineering (Program in Logistics, Information, Management and Service Science)
Beijing Logistics Informatics Research Base
Key Laboratory of Logistics Management and Technology of Beijing
Beijing Laboratory of National Economic Security Early-warning Engineering
In order to strengthen academic exchanges and discussions on the latest fundamental advances in the state of the art and practice of logistics, informatics and service sciences, 2019 International Conference on Logistics, Informatics and Services Sciences (LISS2019) will be held on 26-29 July 2019, Maryland, USA. This is to call for proposals for special sessions or workshops to simultaneously take place with LISS2019.
LISS2019 is a prime international forum for both researchers and practitioners to exchange the latest fundamental advances in the state of the art and practice of logistics, informatics and service sciences. The theme is "big-data driven technical and management innovation in logistics, informatics and services". People involved in the conference will discuss academic issues, seize future development opportunities, master the developing trends and exchange the latest academic thoughts.
Accepted papers, presented at the special sessions or workshops by one of the authors, will be published in the Proceedings of LISS2019. Acceptance will be based on quality, relevance and originality. The conference proceeding will be published in CD-ROM with IEEE Catalog Number and ISBN, and which will be included in IEEE Xplore Digital Library. The proceeding of LISS 2019 will be submitted for EI index. The authors with excellent papers in conference proceedings will be invited to publish their academic thoughts and methods in some international academic journals indexed by SSCI/SCI or EI with high priority.
The topics of interest for the proposed special sessions or workshops include, but are not limited to:
Service Management:
● Strategic Services ● Service Operations ● Service System and Service Network ● Service Personalization ● Service Cybernetics ● Quality-of-Service Assessment ● Service Product Design ● Service Revenue ● Service Innovation ● Service Supply Chain ● Service Information System ● Service Process Reengineering ● Service Purchasing and Supplier Management ● Intelligent Medicine and Healthcare ● Service Marketing ● Public Service Management ● Financial and Insurance Service ● Education Service ● Telecom Service ● Hotel Service Management ● Tourism Service ● Product Post-Sale Service ● Service Management of Transportation ● Case Study
Logistics Management:
● Logistics Strategy and Logistics Planning ● Logistics System Optimization ● Logistics Network Design and Operations Optimization ● Sustainable Logistics and Supply Chain ● Smart Transportation and Logistics ● Big Data and Logistics ● Logistics Innovation ● Supply Chain Risk Management ● Logistics and Supply Chain Finance ● Logistics in One Belt and One Road ● Electronic Commerce and Logistics ● International Logistics and Supply Chain Management ● Humanitarian Logistics ● Food and Medicine Logistics ● Container Supply Chain and Port Logistics ● Sharing Economy and Supply Chain ● Cold Chain Logistics
Information Management:
● Big Data Analysis ● Innovative Enterprise Digitalized Operation Mode ● Enterprises Informatics ● Information and Communication Technology ● Artificial Intelligent and fuzzy systems ● E-Commerce and E-Government ● Internet Finance ● Wireless Communications and Mobile Business ● Enterprise Information Resources Management ● Sensor Network and Internet of Things ● Pervasive Computing and Smart Space ● Cloud Computing Theories and Technologies ● Network Marketing ● Network and Information Security ● Electronic Market and Intervening Mechanism ● Knowledge Management and Knowledge Sharing ● Organization Semiotics
Engineering Management:
● Big Data & Construction Management ● BIM in Construction Management ● Informatics of Construction Industry ● Supply Chain Management in Construction ● Logistics Management in Construction ● Engineering Economics ● Construction Project Management ● Engineering Consultant Management
Other relevant management theoretic and application issues are welcome, especially successful case studies in the above area.
Guidelines for Submitting a Special Session/Workshop Proposal
Proposals for Workshops/Special Sessions Would Contain:
(1) Title of Workshops/Special Sessions
(2) Scope and Topics
(3) Profile of Session Organizer(s) (including his/her photo)
(4) Contact Info. (E-mail address and Phone Number)
Paper Submission and Review of Workshops/Special Sessions:
(1) All Special Session/Workshop papers would be submitted through the online submission website http://icir.bjtu.edu.cn/liss2019 or https://www.rhsmith.umd.edu/liss2019. And choose your own session to submit your paper.
(2) Each Workshop/ Special session could accept no less than 6 papers.
(3) If the number of submissions OR the number of accepted papers OR the number of registered participants is less than 4, the organizing committee will be free to decide whether to cancel the Special Session/Workshop or merge with others.
Support for Workshop/Special Session Organizers:
(1) The organizers will be awarded a certificate for their contributions to the conference.
(2) The organizers will be selected to publish their academic thought and methods in the SCI or EI journals with higher priority.
Proposals Submission:
The organizers would submit their proposals to hjlan@bjtu.edu.cn (Dr. Hongjie Lan) before 31 March, 2019.
Important Deadlines for Workshop/Special Sessions:
15 April, 2019 Proposals for workshop/special sessions
30 April, 2019 Deadline for submission of full papers
15 May, 2019 Acceptance/Rejection notification
30 May, 2019 Final Paper submission and registration
26-29 July, 2019 Conference open
We appreciate that if you would like to forward this Call for Special Sessions/Workshops to those who might be interested in. For further information, please visit website http://icir.bjtu.edu.cn/liss2019 or https://www.rhsmith.umd.edu/liss2019.
Secretariat Contacts:
China
Email: liss@bjtu.edu.cn or liss2019@bjtu.edu.cn
Website: http://icir.bjtu.edu.cn/liss2019
Tel: +86-(0)10-51684188
USA
Email: yxing@rhsmith.umd.edu
Website: https://www.rhsmith.umd.edu/liss2019


Paper Submission:

1 March, 2019


15 April, 2019
Authors Notification:

1 April, 2019


30 April, 2019
Final Paper Submission:

1 May, 2019


15 June, 2019
Conference Open: 26-29 July, 2019
&nbsp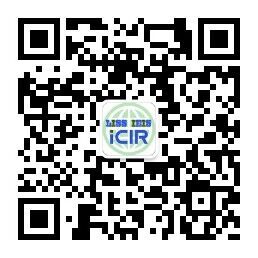 For more conference information,
please scan the Wechat code