Current Location:
Home
» Call For Paper
Call For Paper
CALL FOR PAPERS
7th International Conference on Industrial Economics System and Industrial Security Engineering (IEIS2020)
July 25-28, 2020, Budapest, Hungary, with satellite sessions in Beijing, China
http://icir.bjtu.edu.cn/ieis2020
Hosted by
IEEE SMC Technical Committee on Logistics Informatics and Industrial Security Systems
National Academy of Economic Security, Beijing Jiaotong University, China
The International Center for Informatics Research, Beijing Jiaotong University, China
China Center for Industrial Security Research, Beijing Jiaotong University, China
School of Economics and Management, Beijing Jiaotong University, China
In cooperation with
Budapest University of Technology and Economics, Hungary
Informatics Research Centre, University of Reading, UK
Sponsored by
IEEE Systems, Man, and Cybernetics Society
NSFC (National Natural Science Foundation of China)
K. C. Wong Education Foundation (Hong Kong)
Sino-EU Doctoral School for Sustainability Engineering (Program in Logistics, Information, Management and Service Science)
Beijing Center for Industrial Security and Development Research
Beijing Logistics Informatics Research Base
Beijing Laboratory of National Economic Security Early-warning Engineering
Key Laboratory of Logistics Management and Technology of Beijing
Aims
Keynote Speakers
♦ James M. Tien, Professor, Past President of IEEE SMC, IEEE Fellow, Academician of America National Academy of Engineering, Dean of College of Engineering at the University of Miami, USA
♦ C. L. Philip Chen, Professor, Past President of IEEE SMC, IEEE Fellow, AAAS Fellow, Dean of the Faculty of Science and Technology at the University of Macau, China
♦ Tak Wu Sam Kwong, Professor, IEEE Fellow, Chair Professor of Computer Science, City University of Hong Kong, China
♦ MengChu Zhou, Professor, Fellow of IEEE, IFAC, AAAS and CAA, The Helen and John C. Hartmann Department of Electrical and Computer Engineering, New Jersey Institute of Technology, USA
♦ Martin Dresner, Professor, Chair of the Logistics, Business and Public Policy Department, R.H. Smith School of Business, University of Maryland, USA
UPDATING......
Conference Topics
Special sessions on specific topics are also encouraged. Topics of interest mainly include, but not limited to:
Industrial Economics
Industrial Organizations
Industrial Structures
Industrial Strategies
Industrial Policies
Industrial Development
Agricultural Economy
Industrial Economy
Logistics Industry
Service Industry
Regional Industry
Industrial Security
Industrial Structure Security
Industrial Organization Security
Industrial Distribution Security
Industrial Policy Security
Early Warning of Industrial Securities
Empirical Studies
Methodological Studies
National Economic Security
National economic security evaluation
National economic security forecast and early warning
National economic security policy
National economic risk mitigation
National economic security supervision
National economic security law
Meeting Venue
The meeting venue is arranged in Budapest, Hungary, with satellite sessions in Beijing. For more information concerning the meeting venue, please visit our website: http://icir.bjtu.edu.cn/ieis2020.
Important Dates
February 20, 2020 Deadline for submission of special session proposals
April 30, 2020 Deadline for submission of regular and special session papers/abstracts
June 15, 2020 Acceptance/rejection notification
June 22, 2020 Final camera-ready papers
Paper Submission Guidelines
Manuscripts must be submitted electronically through the conference website: http://icir.bjtu.edu.cn/ieis2020. All submissions should be written in English. Papers will be peer-reviewed. Completed research papers as well as work-in-progress reports are welcome. Authors are required to certify that their papers are original and not considered for publication elsewhere. Simultaneous submission to any other conferences, workshops or journals is not allowed. The manuscript must be submitted in IEEE format (Microsoft Word and Latex templates are available on the conference website). For more information please refer to the website (http://icir.bjtu.edu.cn/ieis2020).
Publications
The conference proceeding will be published in USB with IEEE Catalog Number and ISBN, and which will be included in IEEE Xplore Digital Library. To be eligible for publication in the conference proceedings, an accepted paper must be presented at the conference by one of the authors. The authors of excellent papers will be invited to publish their academic thoughts and methods in some high-quality international journals indexed by SSCI/SCI or EI with high priority.
Accommodation


Submission of SS Proposal: February 20, 2020
Submission of Paper/Abstract: March 1, 2020 April 30, 2020
Acceptance/Rejection Notification: April 1, 2020 June 15, 2020
Final Camera-ready Papers: May 1, 2020 June 22, 2020
&nbsp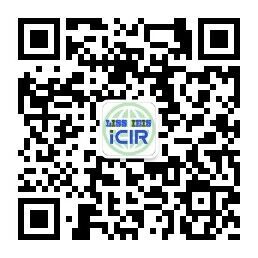 For more conference information,
please scan the Wechat code